Here are some quick tips on getting some exposure for your brand, business, or organization at the next outdoor event:
1. Be VISIBLE! Razor flags [like this one] stand out in a crowded space and can be a great branding tool
2. Offer something immediately USEFUL like a hat, bottled water, or snack.
3. If it's a warm day, make your guests more COMFORTABLE with a cooling towel, sunblock, sunglasses, bug spray, or hand sanitizer. This kit hits many notes >
4. If it's a PET-FRIENDLY event, add a watering station for four-legged guests to entice pet parents into your space. Check out these other pet-related giveaway ideas >
5. Giveaways with a "HIGH PERCEIVED VALUE", like T-shirts or tech items, are always coveted by attendees.
6. For evening outdoor events, a LIGHT-UP giveaway can make your space the cool place to be. This one is sound-activated, perfect for music events!
7. A unique GAME is always a hit — consider a Plinko-style drop game, golf putt, or cornhole hole game. There are a wide variety of booth games you can add a logo to!
8. Outdoor events are often more relaxed, so you can be SILLY and hand out goofy headwear or wacky promotional toys or Frisbee-style flyers.
9. Make sure your MESSAGE or BRAND is the focus of your space — your logo and website should be on every element. Here's a way to add branding to your plain outdoor tent >
10. Incorporate a CALL TO ACTION on your giveaways. Adding a coupon or special offer to a promotional item makes it more likely to be kept.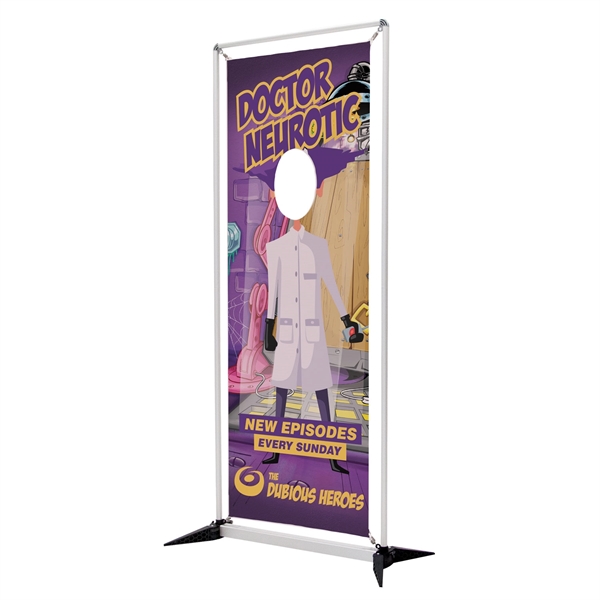 BONUS TIP: Make your booth "viral" with an awesome photo opportunity! These cut-out banners make it easy for your visitors to snap a funny photo with your branding and share it with friends on social media, multiplying your exposure! Other cut-out options available, just ask us!
Get a quote or more ideas from our Promotional Consultant today!
Email: promos@perryop.com
Call: (800) 234-6605 x 112
Visit our gallery of recent projects!